Parent Observation Week is right around the Corner at Clarion Center for the Arts! Not to put too much pressure on you, but what happens during Parent Observation Week can have a huge impact on your kiddo's experience and shape their impression of their classes and the arts in general. Your level of support and involvement indicate to your child your thoughts and views of their classes. If you show little support and involvement, then your kiddo will think the arts aren't important and that you don't care about what they're achieving.
But don't worry!
We've put together a few pointers to help you make the most of Parent Observation Week, making it an experience that your kid will look forward to every semester. We want you to ROCK your Parent Observation Week. So, here's how:
1. Talk about it before class. Especially for little ones, it's important that they know what's going on ahead of time since they can't process nerves and excitement as quickly as older students. Let them know a few dance in advance how you and the other parents will be joining them. Tell them how you can't wait to see what they've been working on and you're so proud of their hard work!
2. Be positive. All your kid wants to do is make you proud. Start asking them what you might see in their class. After the class, give them specific compliments about what they're working on. You could compliment their strength, their performance and personality, their focus and hard work, their flexibility or poise and grace. Don't make comments about what they need to work on and definitely do not compare them to other students (good or bad)! If you do notice things they could work on at home to improve, talk to them later about making a plan for practicing at home. :-)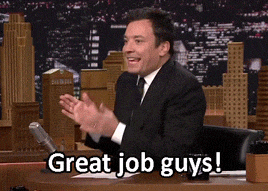 3. Listen and watch. Pay attention to everything the teacher says. They may share important information about upcoming events as well as ways that you can work with your child at home or the benefits that specific skills can have outside of dance, music and theatre. Don't get distracted by your phone, and leave younger siblings with a babysitter so you can just focus on your performer.
4. Join the class! At some point, the teacher may invite you to join your kiddo for an exercise or two. The worst thing you could do in this moment is get embarrassed and refuse to join them. Your kid is taking risks and trying new things every day. Be their hero and show them how eager you are to learn what they're learning! This is the greatest way to show them your support.
Follow these four guidelines and you'll be sure to ROCK your Parent Observation Week. :-)
Be sure to check with your teacher about when parents are invited into the class. Some teachers may ask you to come at the beginning, end or stay for the whole thing! And don't forget to take lots of pictures and videos and tag Clarion Center for the Arts when you post them on social media. :-)
See ya soon!